Malmesbury Town Hall
Cross Hayes
Synopsis
In the heart of the 1970s, amid a flurry of feathered hair and flared jeans, Gru is growing up in the suburbs. A fanboy of a supervillain supergroup known as the Vicious 6, Gru hatches a plan to become evil enough to join them. Luckily, he gets some mayhem-making backup from his loyal followers, the Minions. Together, Kevin, Stuart, Bob, and Otto-a new Minion sporting braces and a desperate need to please-deploy their skills as they and Gru build their first lair, experiment with their first weapons and pull off their first missions.
More Information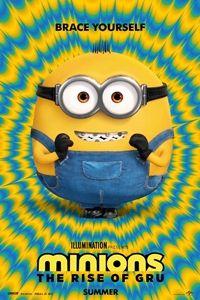 Rating:
U
Universal - Suitable for all
A U film should be suitable for audiences aged four years and over, although it is impossible to predict what might upset any particular child. U films should be set within a positive framework and should offer reassuring counterbalances to any violence, threat or horror. If a work is particularly suitable for pre-school children, this will be indicated in the BBFCinsight.
Country:
Japan, United States, France
Genres:
Action/Adventure
Animation
Comedy
Family
SciFi/Fantasy
Film Credits
Producer:
Chris Renaud
Christopher Meledandri
Janet Healy
Starring:
Taraji P. Henson
Russell Brand
Pierre Coffin
Steve Carell
Alan Arkin