Malmesbury Town Hall
Cross Hayes
Guardians of the Galaxy Vol. 3
Synopsis
The third film based on Marvel's Guardians of the Galaxy.
More Information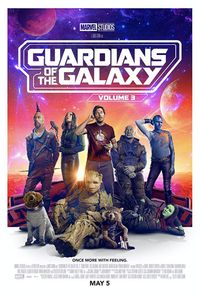 Rating:
12A
Suitable for 12 years and over
Films classified 12A and video works classified 12 contain material that is not generally suitable for children aged under 12. No one younger than 12 may see a 12A film in a cinema unless accompanied by an adult. Adults planning to take a child under 12 to view a 12A film should consider whether the film is suitable for that child. To help them decide, we recommend that they check the Ratings info for that film in advance. No one younger than 12 may rent or buy a 12 rated video work.
Genres:
Action/Adventure
Comedy
Drama
SciFi/Fantasy
Film Credits
Starring:
Zoe Saldana
Chris Pratt
Dave Bautista
Bradley Cooper
Karen Gillan