Malmesbury Town Hall
Cross Hayes
Synopsis
A biopic about Elvis Presley, with focus on his early years.
More Information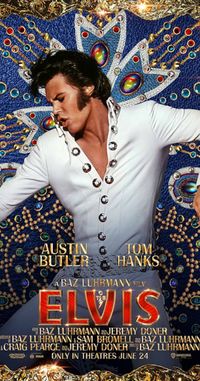 Rating:
12A
Suitable for 12 years and over
Films classified 12A and video works classified 12 contain material that is not generally suitable for children aged under 12. No one younger than 12 may see a 12A film in a cinema unless accompanied by an adult. Adults planning to take a child under 12 to view a 12A film should consider whether the film is suitable for that child. To help them decide, we recommend that they check the Ratings info for that film in advance. No one younger than 12 may rent or buy a 12 rated video work.
Country:
United States, Australia
Genres:
History
Drama
Musical
Film Credits
Producer:
Baz Luhrmann
Patrick McCormick
Schuyler Weiss
Catherine Martin
Gail Berman
Starring:
Olivia DeJonge
Austin Butler
Kelvin Harrison Jr.
Richard Roxburgh
Dacre Montgomery
Tom Hanks
Helen Thomson