Malmesbury Town Hall
Cross Hayes
Synopsis
The story of soldier and poet Siegfried Sassoon (1886–1967), who was decorated for bravery on the Western Front, and is best remembered for his angry and compassionate poems about the First World War, which brought him public and critical acclaim. Avoiding the sentimentality and jingoism of many war poets, Sassoon wrote of the horror and brutality of trench warfare and contemptuously satirised generals, politicians, and churchmen for their incompetence and blind support of the war.
More Information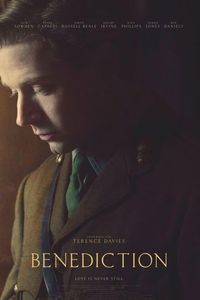 Rating:
12A
Suitable for 12 years and over
Films classified 12A and video works classified 12 contain material that is not generally suitable for children aged under 12. No one younger than 12 may see a 12A film in a cinema unless accompanied by an adult. Adults planning to take a child under 12 to view a 12A film should consider whether the film is suitable for that child. To help them decide, we recommend that they check the Ratings info for that film in advance. No one younger than 12 may rent or buy a 12 rated video work.
Genres:
History
Drama
War
Film Credits
Starring:
Peter Capaldi
Edmund Kingsley
Jeremy Irvine
Calam Lynch
Jack Lowden
Simon Russell Beale
Harry Lawtey